The coronavirus restrictions haven't been eased yet. Most companies are working from home and more are planning to implement the same.
The pandemic brought with itself a number of challenges, including how to implement work from home for employees. While most thought of clouds as a viable and easy route, the employees had to be trained, making things way more difficult than anticipated.
Several organizations, even us, started training their employees before it wasn't made mandatory. In fact, every new member in our organization undergoes mandatory one-week training in which he is taught a number of things, including how to make use of our cloud hosting platform. On the other hand, things may not have transitioned so smoothly for your organization, which is why we are here, with a blog to help you train your employees on how to use cloud computing.
What is cloud computing?
Cloud computing, in a nutshell, means provisioning resources on-demand over the internet. In layman's term, cloud computing is the ability to use a computer (or workstation) remotely located through the internet.
So with the cloud, your employees will have the option to use their workstations even if it is not physically present at their desk.
Challenges in using cloud computing
The cloud is a relatively new concept. Even with the massive popularity it has had, many remain unaware of the challenges in using cloud computing.
One of the first challenges you will come across with the cloud is whether to outsource or establish your own private infrastructure. While most organizations would agree with simply outsourcing their cloud requirements, data centers and other IT providers can choose to establish one of their own. This way they could use the existing hardware and avoid unnecessary expenses associated with outsourcing.
| | |
| --- | --- |
| Type of Organization | Most viable cloud mode |
| Data center, IT provider | Establish your own cloud |
| IT services, any other business without the required infrastructure | Outsource |
What cloud specifications should you choose
The next thing you are probably stumbling upon is choosing the right specs for your cloud. No matter how baffling this sounds, it is somewhat simple and easy to decipher.
Assign each user a Virtual Machine with specifications comparable to his workstation at the office. Thus, if an employee had a system with 4GB RAM, 256 GB HDD, and a quad-core processor, allot him a VM with somewhat similar hardware.
Whom to give what controls
You should probably leave this up to your HR or have the IT department to collaborate with human resource. When deciding what level of control should one have of the cloud, stick to the policy of 'bare minimum control".
Thus, a copywriter should only have just enough access to edit, save and share documents with his VM. A web developer or a Linux administrator who might need to scale the size of his VM (depending upon the complexity of the task) could be provided with additional option to resize and edit VM resource.
How to keep an eye
Keeping an eye on what your subordinates are up to is even simple with cloud computing. You can get the system programmed in such a way that each reporting manager gets to see the activity of each VM, and thus of the executive to whom it has been assigned.
Once you have surpassed these major challenges, it is now time to get your files to the cloud. This can be a simple thing to do if you have a centralized network at your place. Simply move the files in the exact same order as they appear in the legacy network.
You have now established the cloud environment, but what about cloud computing and the training needed to get your employees to work seamlessly from home. We would get to that in a moment, but before that…
Setup a firewall and antivirus security
Now that you know your employees would be using cloud network from different locations, you might need to make it more secure. At office, the entire network was sandboxed and there would not have been many entry points for vulnerabilities to enter.
Now when your employees are remotely connecting to the server, the network is N times more likely to undergo an attack because of the added entry points.
Decide whether you want the network public or private
You can choose to have your network either public or private. Means, you can allow your clients to connect from his internet or initiate a VPN connection to his workstation at the office. Both the options have their own downsides…and benefits.
The above two points are crucial because they affect how you are going to train your employees to work on the cloud. So let's get started without further ado.
Case 1: Public cloud
If you chose to outsource your cloud needs instead of provisioning one of your own, your employees can log in to their systems by visiting the respective cloud provider.
For example, if you choose Go4hosting's cloud (branded as Cyfuture Cloud), log on to cloud.go4hosting.com and sign up/log in depending upon whether you have received your login credentials or not.

If your company gave you the login access, you can simply log in and see your VM listed.

This is how your VM should have been listed in the cloud portal.
Note: you may choose to not send login details of the cloud portal and instead share login details of individual VMs. You can share with your employees the login details of their respective VMs and choose to manage the central VM yourself.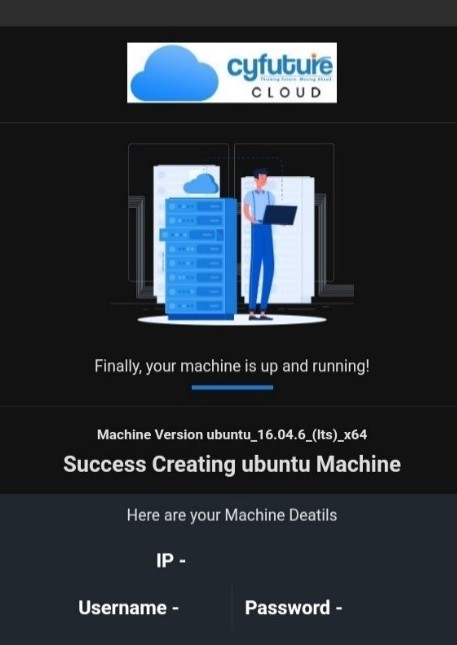 Note that every time that you create a new Virtual machine on cloud server, a mail like this will be sent to the registered email. Forward the same to whoever is to be handed the VM.
The VM looks just like an ordinary computer. Employees can connect to their VMs by initiating remote connection from their desktop computer.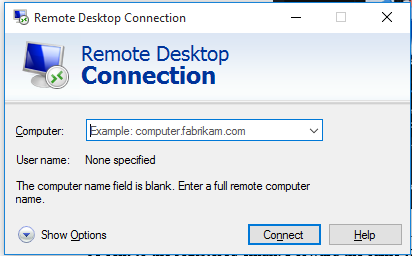 Enter your IP and if/when prompted, the username and password mentioned in the email.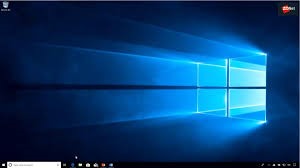 The VM looks and functions like a computer, except that you would have no sense of its tangible existence.
Case 2: Private cloud
If your organization has coded its own cloud environment, you are likely to be provided with a link to directly initiate connection request. Or, like us, you could be made to sign up through your own portal. The possibilities are endless.
The remaining steps are more or less the same. There could be some deviations, though, in the steps, but the overall idea is the same.
Case 3: Setting up network with a VPN
Your company may have created or outsourced its cloud, but it may still choose the option to allow connections only via its own network. If this is the case, you are short on possibilities. You need to connect your home computer to your workstation, which in turn, will be connected to the cloud.
Here's how to access your work computer from home.
Takeaway
If you need help setting up cloud computing, you can get in touch with our cloud architect. Our experts can also help you in establishing private, public or community cloud, and combine it with any other service if the situation demands it.