Want to build a website but not sure how to get started?
Building a website from scratch using HTML coding can indeed be daunting, particularly if coding isn't your forte. Fortunately, today we have WordPress that allows you to spin up a website in minutes without knowledge of HTML.
In this brief post, we present a rundown of the pros and cons of both WordPress and HTML to help you make an informed decision. So, let's begin.
An Introduction to WordPress
WordPress is a Content Management System (CMS) that allows you to create, manage and publish content on your website without requiring you to learn any coding.
WordPress is the most popular CMS on the planet. Its popularity can be gauged by the fact that over 30% of the websites on the internet are built on WordPress. Several notable brands such as The New Yorker, Tech Crunch, BBC America and Time Inc. have their websites built on WordPress.
What's important to mention is that WordPress offers two different platforms viz. WordPress.org and WordPress.com.
WordPress.org is an open-source CMS that you can install in a click to access a range of free plugins and themes. If you want to create a website, you should choose WordPress.org as it allows you to choose a domain name and sign up for web hosting.
WordPress.com, on the other hand, is a self-hosted version of WordPress where you don't need to purchase a web hosting service or maintain your website. WordPress.com has both free and paid options. The free version offers 3 GB data along with limited themes but no plugins. The paid versions allow you to upload custom themes as well as plugins.
Read: WordPress Differences: Beginners Guide
Now that we have a clear understanding of what WordPress is all about, let's discuss its pros and cons.
Pros
User-Friendly Interface: WordPress offers a user-friendly interface that lets you manage the entire website from a single dashboard. So, you don't need any coding or web designing knowledge to create and manage your site.
Plenty of Themes to choose from: With WordPress, you can choose from thousands of appealing themes to build the kind of website you want. For instance, if you're a photographer and want to build a niche website depicting your portfolio, you can easily find a suitable theme that fits your needs.
Plugins to enhance Functionality: Paid versions of WordPress let you access thousands of plugins that can enhance the functionality of your website. As a matter of fact, there are over 43,000 plugins available in the official WordPress database.
You can play around with these plugins to optimize your site for SEO, create a contact form for your site and enhance its security.
Support from Open-Source Community: WordPress is an open-source platform supported by a huge community of millions of developers around the world. So, if you experience any problem in using WordPress, you can get in touch with these experts.
Cost Savings: If you want to build your website from scratch, you will need to hire a web developer, pay for Dedicated server hosting service and incur other miscellaneous expenses. If you're a small business, these expenses can burn a hole in your pocket. With WordPress, you can get your website up and running at a fraction of the cost.
Besides, you can update WordPress with a single click, install security plugins to secure your website and add and maintain new pages on your own.
SEO-Friendly: In order to make your website visible to prospects, you need to optimize it for search engines.
WordPress has several SEO plugins using Yoast SEO that let you easily optimize the website for keywords. In contrast, with an HTML website, you need to go through each and every page to optimize the content.
Cons
Coding for Advanced Customization: A major benefit of WordPress is that you do well even without any coding knowledge. Plugins and themes let you customize your site the way you wish. However, for advanced level of coding, you'll require knowledge of scripting languages such as HTML, CSS and JavaScript that aren't easy to learn.
Website Management: Even with paid WordPress options, you need to take care of your website from time to time to ensure everything, including plugins and themes, is up-to-date and there are no compatibility issues.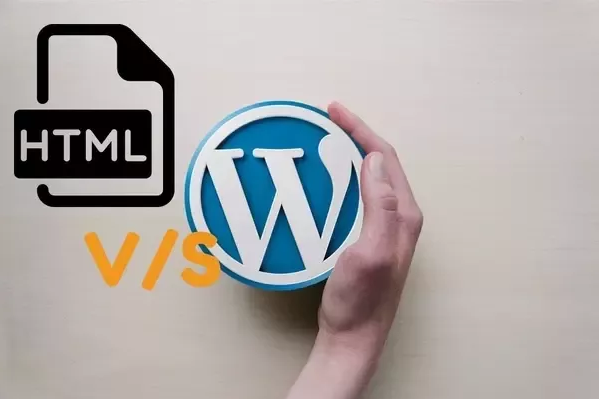 An Introduction to HTML
HTML or Hyper-Text Markup Language is a markup language used to display webpages. Most of the websites use HTML in association with CSS and JavaScript to build webpages. HTML offers a basic structure to the site which is later enhanced using CSS and JavaScript.
Let's discuss the pros and cons of using a static HTML website.
Pros
Little Maintenance: With static HTML, you don't need to worry about the maintenance once your site is up and running. No hassle of installing updates. This is because with static HTML, nothing changes much so you can just back up your website and forget about it.
Easy Access to Code: While WordPress makes it easy to access and change the underlying code, HTML makes it even simpler. This allows you to control almost everything on your website.
Cons
With HTML, you have to build your website from the ground up. This entails considerable expenditure in terms of both time and money. Besides, scaling your website in terms of content and functionality requires you to write additional code. However, if you aren't proficient in HTML, you need to hire a developer and bear the cost of an extra resource.
WordPress or HTML: The Final Verdict
Now that we've discussed the pros and cons of both WordPress and HTML, it's clear that WordPress is a far superior option. So, if you're building a small website that is unlikely to change in terms of either content or functionality, HTML can be fine. But for everything else, WordPress is a better choice hands down.
With WordPress, you can get a website up and running in minutes. Thanks to its vast range of plugins and themes, you can add new webpages, features and functionalities whenever you want to. You can use SEO plugins to optimize your website for search engines, e-commerce plugins to run an online store and e-mail marketing plugins to run email campaigns.
In other words: if you want your website to grow, WordPress is the indisputable answer.
Looking to build a WordPress website? Get in touch with our technical experts at our toll-free number.