Regardless of how technically proficient you are, you will agree that building a website is a cumbersome task.
Until recently, you would require to work with a development agency to get an impressive website.
Over the years, however, technology has undergone rapid strides. Today, we have several cost-effective options for building a professional-looking site. Among these, the one that stands out is WordPress. WordPress powers over 40% of the websites across the world and is a highly sought-after content management system (CMS) for website building.
In this post, we offer a breakdown of the 9 steps you would require to build a WordPress website from scratch.
Choose your Domain Name
Register your Domain Name
Decide on the type of site you want
Choose a Hosting Plan for your Website
Install WordPress
Install a WordPress theme
Install Plugins
Add content to your website
Keep evolving your website
1.) Choose your Domain Name
Your domain name is akin to your identity in the digital world. It is something your audience will identify with. So, it makes sense to use a name that's reflective of your business and makes it easy for others to find you.
That said, you have complete freedom to choose any domain name you wish. The only condition is: it should be available and not registered by other companies.
A couple of tips for choosing a domain name for your website:
Keep it short, easy to spell, type, or pronounce.
Include words related to your niche. For instance, if you plan to sell flowers online, add flowers somewhere in your domain.
Make sure it sounds unique and is memorable.
To ease the task, make use of website name generators on Nameboy or GoDaddy. All you need to do is to put a keyword related to your niche; you will get plenty of suggestions.
Read More at : How to Speed Your WordPress Site?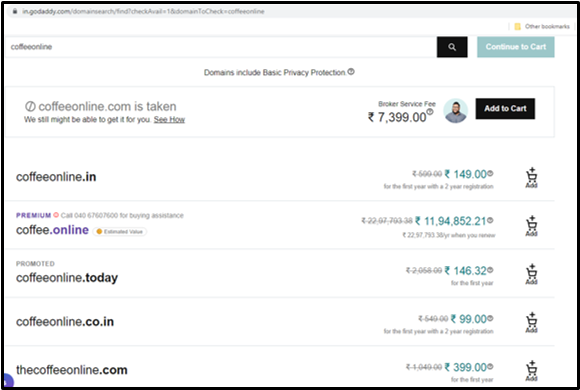 When you have a prospective domain name, make sure to check it is available. Sites such as GoDaddy let you check the availability of a given domain.
2) Register your Domain Name
Once you have a suitable domain name, it's time to get it registered.
And that's where a domain registrar comes into the picture. For those who don't know, a domain registrar is a company specializing in buying and registering domains.
Most of the web hosting companies out there also sell WordPress domains. More often than not, they include domain registration as an add-on in their WordPress hosting package, earning additional profit from their offerings.
Ideally, you should buy domains from a business that specializes in the same and consider web hosts only at the time of buying a hosting plan.
Here are some of the well-known domain registrars in India that you might consider for your WordPress website:
GoDaddy
Domain.com
Name.com
3) Decide on the type of site you want
While there is no denying that WordPress is the most flexible and best website builder out there and is typically recommended when you are creating a website, different scenarios call for different options.
Let's go through these points one by one.
Simple Portfolio Website
Many businesses demand a simple portfolio website for communicating basic information-what the business does, who the business is for, contact information, etc. It may also include a portfolio displaying the owner's work.
If a simple portfolio is all you need, you might be better off using Wix. The platform is extremely simple to use and lets you build a professional website at a low price. Wix is a great option for small businesses, artists, designers, and freelancers.
E-commerce Website
If you intend to create an e-commerce store for your business, WordPress is not the best option out there. You will do much better with Wix or Shopify.
Blog
If you want to create a blogging or content-focused site, WordPress is the best option hands down. You may not have noticed but the majority of the websites on the internet are essentially blogs. And many of these blogs are powered by WordPress.
If you are building a site outside the aforementioned categories, WordPress will still be the recommended option. Being an immensely flexible platform, WordPress can handle most kinds of websites.
In certain situations, WordPress may require more customization than the other platforms, but you are more likely to achieve the desired outcome with WordPress. Besides, if you face any issues with your site, you'll be able to find plenty of support.
The best part about WordPress is that it minimizes the programming work; you can edit basic items on your website without requiring you to modify any code.
Read More at : Essential Tips to Speed Up WordPress Hosting Blog
4) Choose a Hosting Plan for your Website
Now that you have a platform for creating your website, you would require a server that stores your website and makes it available for everyone who visits it.
And that's where a web hosting service comes into the picture. Some companies offer these services for a fee (called web hosts).
Go4hosting is among the most reputed web hosting companies that offer the whole gamut of hosting plans catering to the needs of different kinds of businesses:
For start-ups and simple WordPress websites, we have shared hosting packages starting around INR 97.50/month.
For online stores and content-heavy websites with large traffic, dedicated hosting packages starting around INR 8995/month are available.
When it comes to choosing the best WordPress hosting plan, consulting your hosting provider makes sense. As experts in that area, they will assess your current and future needs and suggest a package accordingly.
Read More at : Blogger Or WordPress – Which Do I Choose?
5) Install WordPress
Once you have a hosting plan in place, it's time to install WordPress. You can either do it manually or ask your host to do it on your behalf.
After the installation is done, you will need to bring everything together by pointing your domain to your host. This way, when a user goes to your domain, he will end up on your website.
To do so, you will need to configure a couple of nameserver settings for your domain. In most cases, you will have a customer service representative to help you out.
6) Install a WordPress Theme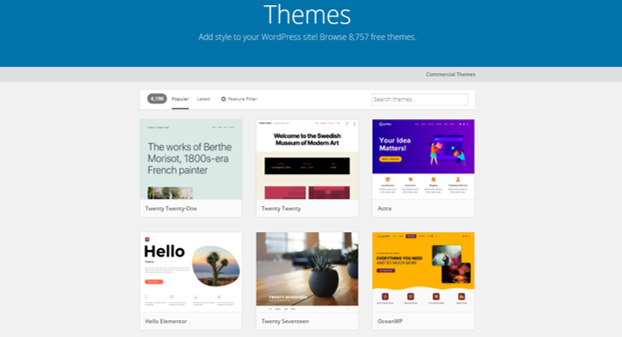 One of the greatest benefits of using WordPress is the wide range of themes it supports. Themes are designs that let you decide the overall look and feel of your website. So, if you don't like your site's appearance, you can pick a different theme.
To search for a theme, start by browsing the official directory of WordPress. In addition to the WordPress directory, there are many theme stores and marketplaces like ThemeForest or Pixelgrade where you will find plenty of free website themes. You can use these to change your site's appearance without changing its contents.
Read More at : WordPress or HTML: How to Build your Website?
How to install a WordPress theme?
Here is how you can install a given theme from the WordPress directory:
Select Appearance from your WordPress dashboard. Choose Themes from the dropdown, and click on Add New. Type in the name of the desired theme in the search bar, click on the Install button under your desired theme. Once the installation is complete, click on Activate to apply the settings to your website.
While many of the themes are free, the premium ones require you to spend anywhere between $10 to $200.
7) Install Plugins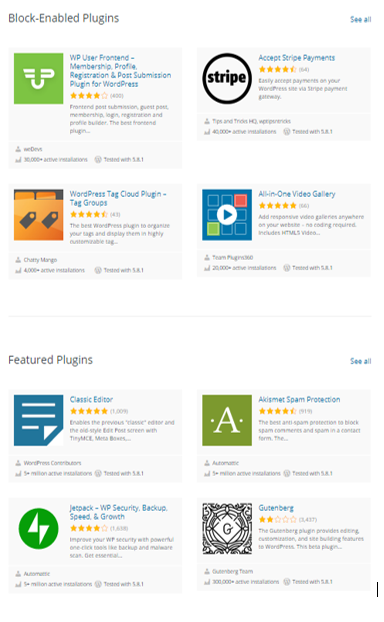 You can consider installing plugins to enhance the functionality of your website. Plugins are a piece of software containing a group of functions you can add to your site.
The official WordPress directory has around 57,000 plugins that you can install or uninstall from the dashboard. There are plugins for enhancing security, optimizing content, adding contact forms, email marketing, and so on. You will find lots of plugin options in every category imaginable.
Some of the popular plugins you can consider adding to your website:
Yoast SEO: The plugin optimizes your content so that it ranks high in search engine results.
Contact Form by WP Forms: The plugin comes with a 'drag and drops' form builder for adding a customizable form to your website.
WooCommerce: Need to convert your website into an online store? Look no further than WooCommerce.
WP Rocket: This plugin boosts your website's performance through proper caching.
There is a downside to adding plugins-it slows down your website. So, make sure not to go overboard when installing plugins.
8) Add Content to your Website
Once you are done with theme and plugin installation, start building individual pages for your website.
WordPress lets you create two types of content pages and posts.
Pages refer to the web pages such as About Us, Contact, Privacy Policy, Contact Page, etc. that you normally see on any website. When you build your WordPress site for the first time, you want a couple of pages live so that your site feels authentic.
Posts are nothing but blog posts published under the blog section of your website. If you don't need a WordPress blog, you can skip this kind of content entirely.
Here are a few standard pages every website needs to have:
Homepage: Most WordPress themes have settings for this section.
About Page: This includes a brief introduction-who are you and why you started this business.
Contact Page: This page includes your contact details as well as your contact form. The latter can be added using a plugin.
Product/Service Page: If you are offering a range of products/services, it is good to have a dedicated page for each of your products/services.
Blog: If you want to include a WordPress blog on your site, all your posts will be listed in this section.
9) Keep evolving your website
By now you may have a great-looking, fully functional website. But if you fail to keep up with your site updates (theme and plugins), all your efforts may go down the drain. Your WordPress site will not only stop working when a major update gets released but also remain vulnerable to malware and hackers. Updating your site religiously is, therefore, a must.
For checking updates, select Update Options on your WordPress dashboard; check for updates under different tabs-themes, plugins- and in the General section. In each case, you can either accept updates one by one or set them to update automatically.
Read More at : WordPress Differences: Beginners Guide
In addition, you will need to renew your hosting and domain plans when the time comes.
Have a site built on WordPress? Got any tips to share? Please scribble in the comment section.