It is sometimes necessary to clear doubts as well as misconceptions that may be harming a good concept. It is really a pity that colocation is one of such concepts that is unduly being misrepresented and unfortunately being misunderstood in spite of its great potential to serve as an effective resource for business growth.
In the interest of companies that may be facing a dilemma due to concocted stories and dubious facts while choosing colocation as tool to boost their business growth, let us re-visit and burst some of the commonest myths that are affecting colocation.
Colocation is Just Another Term to Describe Web Hosting
Colocation and web hosting are two distinctively different services and there is only one commonality between these two since these are being offered from a data center facility that is not owned by you.
In web hosting, you do not own anything at all including the server and related software, while in colocation you are in possession of the server that is owned by you along with the supporting equipment. The web server hosting provider is responsible to support your server with all resources such as the data center infrastructure, bandwidth, power, cooling, and security. In web hosting the server may also be shared by other websites in addition to all resources.
This can lead to security concerns and technical glitches due to excessive resource consumption by other users that are sharing the server with you. In contrast, colocation obviates sharing of server and its resources since these are exclusively under your control.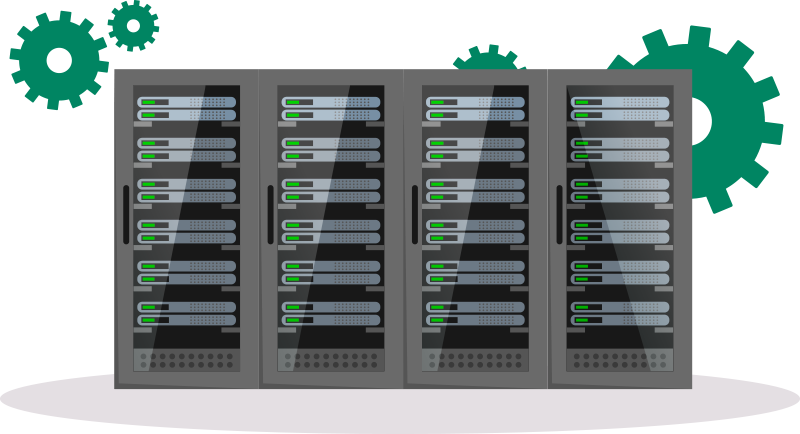 Colocation Hosting is Costly
Although, colocation hosting may be slightly costing more than web hosting, it is much more affordable than an in-house facility. Running your server in your own facility includes cost of staffing, power, bandwidth, monitoring and security. In colocation hosting, you are absolved of all costs for maintaining in-house facility since you server is supported by state of the art data center facility and round the clock availability of technical personnel of web hosting service provider.
Therefore colocation is far more inexpensive that an in-house data center facility and users are only required to pay monthly fees than incurring huge expenses related to operation and maintenance of on-premise IT facilities. You should also consider costs of restoring your in-house IT capabilities in the event of a server crash.
Modern facilities of data center services are managed by professionals with proven expertise of running data center services. These facilities are situated in secure geographic regions and are backed by multiple redundancies to thwart downtime or server crash in contrast to in-house IT that may not have such support systems.
Colocation Server Hosting Lacks Reliability
In fact colocation hosting is designed for reliability with availability of highly redundant power supply and networking infrastructure. You can expect an uptime of 99.99 percent if you are colocating your server at top tiered data canter owned and operated by reputed hosting service provider.
The right web host offers dependable infrastructure with flawless data storage and disaster recovery facilities. Colocation facilities are built by using state of the art equipment and are reckoned for being carrier neutral for assured connectivity.
Colocation Does Not Provide Support
False! In fact, majority of colocation hosting providers take pride in their ability of providing round the clock technical support by way of multiple communication channels including live chat, email, or telephone. These facilities have expert technicians available on stand-by mode to attend to any technical glitches.
Colocation Suffers From Lack of Security
The truth is that a colocation facility can be hundred times more secure than an in-house IT infrastructure. Data centers provide multi-layered security facilities that span physical as well as network security.
These services implement the latest firewalls, anti-virus, and anti-malware protection. Their access control measures are effective in preventing unauthorized attempts of intrusion with biometric systems, mantraps, and seamless CCTV monitoring measures just to name a few. Every rack is also assigned independent security to make sure that your servers are impregnably secured.
Colocation Does Not Offer Scalability
This is far from being true, since colocation providers provide smooth scalability to accommodate growing needs of resources of their clients. Users can scale up from racks to cabins, cabins to cages, and cages to server rooms to make sure that their demands are effectively being met.
In contrast, it may be months before you are able to enhance capacity of your in-house IT infrastructure, considering the costs or space constraints involved with such expansions.
Colocation Offers Low ROI
The very fact that colocation requires far less investment in comparison with an in-house facility ensures higher Returns on Investment. Users are supposed to pay only on the basis of allocated unit space. The fees also take into account security, redundant power, bandwidth, and so forth. This makes colocation a commercially viable option with excellent ROI.
Inconvenience is a Big Issue With Colocation
Not true. Colocation provides freedom to choose, control, and operate your hardware the way you want. Your IT staff can perform server related tasks from your own premises remotely. Colocation host can also assign their experts to perform the basic tasks thereby obviating need to deploy your staff.
Colocation hosting can transform your IT operations and prove to be an economically feasible option. It can totally eliminate efforts and expenses involved in monitoring, staffing, and maintaining on-premise IT infrastructure.