Today's generation of development experts are willing to integrate new strategies and technologies to deliver solutions that can deliver both business growth and value. To flourish as a leader in the current competitive ecosystem, it is indispensable to extend your quality metrics (faster deployment times and streamlined workloads) with respect to high-end applications, so that it can be delivered to the end-users at a blazing speed.
Application Programming Interface (API): Unlock Many Markets with a Single Key
API helps integrate multiple applications through a web technique. To expand its definition a little more – it is an interface that comprises set of protocols, routines, and tools for developing software programs. It defines how software components should interact and APIs are used, when graphical user interface (GUI) components are programmed.
In the current market scenario, this technology is gaining traction because of two major factors:
Gone are the days when APIs were only confined to allowing applications to communicate with each other. Today, the role of this programming interface has undergone radical changes, allowing businesses to monetize digital components, derive value proposition, and establish seamless collaboration across different channels and devices. Just to add, conventional API approach that was limited to development technique has been plunged to business model initiator and CIOs boardroom consideration.
Opening APIs to Boost Returns on Investment
When companies create an API, they give its access to developers within and outside the organization to make use of their offerings in order to develop new applications, extend their customer base in an attempt to navigate new heights.
Let's take a look at the job responsibilities of both onsite/internal and public APIs:
Onsite/Internal APIs boost re-usability while enforcing uniformity in all the new applications, which ostensibly improvises the work efficiency of the developers.
On the other hand, public APIs can leverage your organization by enabling third-party developers to add sizable potential or add customers into your kitty.
Recently, I have read somewhere that application programming interface also plays a pivotal role in user traffic and innovation owing to the growing adoption of mobile devices by users today.
Facts that boast API influence: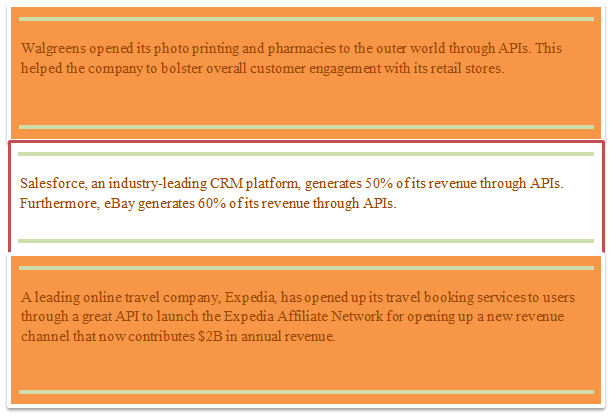 Mediocre APIs Act As a Performance Barrier
Inadequate consideration while building an API will sojourn your company to standby the set growth parameters, as it may not fit the requirements of its users. APIs that do not match up its users' needs are expensive and encounter limited adoption by developers, ostensibly, failing to meet business priorities. Well, I don't think that it's a good idea to do rework on APIs once they get completely designed as it may be intricate and will eat up your precious time.
Moving to the second point, building an API on conventional systems or processes that are accompanied by limitations is also not a good to go alternative as such programs are difficult to understand and developers do not show interest in the same. Of all these reasons, it is important to ensure that API should be designed in a way that they are easy to understand and use, and developers can access the functionality of the created APIs in no time.
Let's have a look at how open APIs can help you cut the mustard:
Being straight forward, conventional business alliances, small online ventures and product integrations are not only expensive but also consume too much time as compared to open APIs that are designed considering users' convenience.
Businesses building a niche and spanning across diverse portfolio such as online marketing, financial services, e-commerce hosting, web hosting and entertainment can draw maximum benefits by sticking to a seamless API platform On the top of it, publishing APIs on portals enable developers to find your business's API so that they can evaluate and make best out of it.
A robust API simply boosts developers to use it and share it with other users. This, in turn, helps in creating a dense network where each positive implementation means more engagement and more assistance from developers who add value proposition to your offerings.
Protecting APIs against Threats
Today, CEOs have become increasingly dependent on APIs to give access to their data, application, and functionality to external users. The involvement of external users sometimes entails security threats. Here, best practice that businesses can adopt when ensuring API security architecture is – they should efficiently segregate API implementation and API security into two separate tiers. This approach will help an API developer to concretely focus onto the application domain, so that each API gets designed intuitively and supports integration among various applications. Moreover, there is a host of API security benefactors who provide complete access and control over your deployed environment, threat detection, privacy control, and perform rigorous audit across every API the business publishes.
In the nutshell, APIs are the smartest way opted by organizations to cost effectively improve business's bottom-line. Most of the CEOs believe that revenue generation and traffic acceleration are the two major and real benefits associated with open APIs. The open application programming interfaces can open a room of opportunities for businesses spanning across diverse portfolio while aiding them to tap on the resourcefulness of a great partner ecosystem.  More to add, API programs that achieve set business objectives are not difficult to create, provided systematic approach to its designing plus management is applied.
Are you facing difficulties in integrating an API, or have any other related queries? Connect to our experts right away at 1800-212-2022 or e-mail us at [email protected].