Cloud computing has transformed IT infrastructures of organizations across the globe and is all set to revolutionize hosting industry. Many companies have moved their digital assets and hosting resources to cloud in order to explore innumerable benefits that are promised by cloud hosting service providers.
Neutral overview
In spite of a great number of articles and lengthy discussions that speak in favor of cloud hosting there is a significant proportion of website owners that are moving their resources to dedicated servers from cloud environment. Unless we look at both these options without any preconceived ideas, it would be difficult to know the underlying truth.
Traditionally, dedicated servers have been catering to the demands of users that need to operate resource intensive websites or websites that must operate in total privacy on account of sensitivity of the data. Hosting service provider offers dedicated server on rent with unrestricted access to all features of the standalone server. Charges for leasing dedicated servers depend on the number of facilities being offered to customers.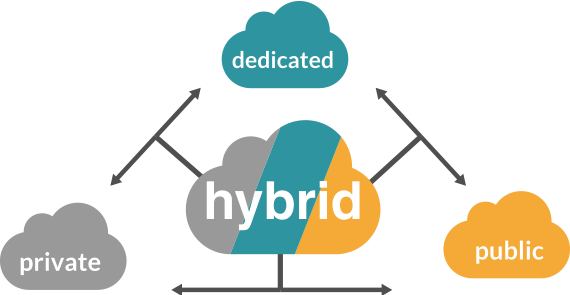 Unlike a cloud server, a dedicated server requires an initial setup and a customer will have to wait for some time before it becomes fully functional. In contrast, a virtual server instance can be provisioned in few minutes.
The hosting industry has undergone revolutionary changes on account of cloud computing, which can resolve most of the issues being faced by customers in terms of storage of information and procuring multiple resources including software and even IT infrastructure among others.
In cloud computing, service providers offer virtual servers that can be outsourced by customers from remote locations. These virtual servers are in fact, virtual instances that are derived from single physical servers. From the user's perspective, the virtual server is nothing but a complete dedicated server with total privacy and ability of controlling all resources including root access and so forth.
Moving from cloud to dedicated servers
A shift from dedicated server to cloud server can become a necessity to fulfill demands of greater security and controls over a server's operating environment. This kind of shift is possible only if you have thoroughly understood intricacies of the process.
Understand your bandwidth needs– In order to offer a gratifying user experience to visitors of your website, the web server must be supported by optimum bandwidth. Bandwidth availability can hardly be a cause of concern if one is operating in a cloud environment. This is mainly due to excellent scalability of virtual server instances. However, you are usually unaware of the port that is being used in a virtual instance.
On the other hand, users of dedicated servers need to have complete knowledge of the ports that would be required to prevent roadblocks due to insufficient availability of bandwidth. If you want a port that allows access to higher bandwidth, than a dedicated server may charge you for such additional requirement of bandwidth.
Contractual details– It is observed that providers of cloud services leave many things to be desired in terms of contracts and Service Level Agreements. This is not the case with providers of dedicated server hosting services in general. Following are the few key points that must be checked by users of dedicated servers before signing on the dotted line.
In a web hosting contract, an SLA plays a vital role and provides a prospective customer with details of the important aspects of hosting including a guaranteed uptime. One must carefully go through the document and understand the meaning of outage from the service provider's perspective. Even a small and seemingly insignificant clause can impact the very purpose of such agreement.
Terms of services are listed in these contracts that are also supposed to discuss certain eventualities such as a DDoS attack. Many web service provider companies are reserving their right to switch off your server even if the attack is of minor nature.
Server management– This probably the most underrated aspect while planning a transition from a cloud server to dedicated server. Management of various aspects of server is an essential feature of dedicated server hosting. This may not be the case with cloud hosting because the service providers look after management of virtual servers.
Your leased dedicated server requires you to gain in-depth knowledge about configuration and other operations such as server-reboot, installation of applications, security patching, monitoring server's performance and so forth. It would be better to understand the difficulty level involved in data accessibility as well.
In conclusion
Dedicated servers are aimed at satisfying extremely high computational requirements of users including maintenance of voluminous databases. If your website is designed for management of mission critical operations, then a more robust and stable dedicated server may become essential. Transitioning from a cloud to dedicated server environment is as complex as making a move from dedicated server to the environment of cloud.
In case of any hosting requirement, you can easily contact us for Hosting Requirement.